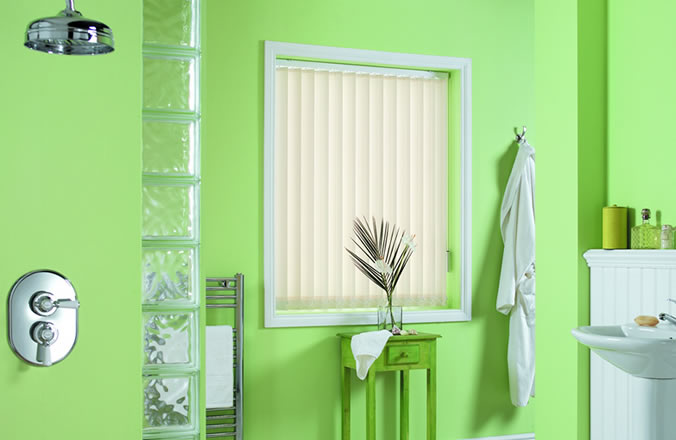 Vertical blinds are most ideal for use on larger windows or patio doors in homes and business premises as these window coverings solutions can provide the very best in privacy when closed.
The advantage of vertical blinds over traditional window dressings such as curtains is that they slide across into a neat configuration on either or both sides of the window or door – promising an unobstructed view. They are equally effective in regulating or screening out the sun.
Fabric, aluminium, wood, PVC or vinyl are commonly used materials used in the construction and manufacture of vertical blinds. These materials are highly favoured for their suitability to easily match existing furnishings.
The type of fabric used in the manufacture of vertical blinds can be made to blackout light, reflect light and filter light into a room. Fabric can also be further treated to offer advantageous qualities such as being stain and mildew resistant as well as strong resistance to flame.
A choice exists between various slat options of vertical blinds that deliver different results depending on your preferences. A wealth of colour options are presented by aluminium slats which are also easily cleaned.
A great cost effective charm of vertical blinds is that should a vertical blinds slat get damaged, you don't need to replace the entire unit. Individual slats can be replaced easily making it cheaper to repair your blinds system.
Benefits of choosing vertical blinds
maintain a modern look
easy installation
cost effective
durable
least likely to collect dust
vertical blinds slats are easily replaceable
Blackout vertical blinds
Sleep experts point out that an effective restful night's sleep is heavily dependent on the quality of darkness in a room. Blackout vertical blinds, as its name suggests, can produce just the quality of darkness in the room to enable you to get in a good night's sleep and wake up wonderfully refreshed.
The bedroom is not the only room in the house that can benefit from the darkened environment created by blackout vertical blinds. Reduce the glare of the TV screen by opting for blackout vertical blinds for your living room.
For business premises blackout vertical blinds would be most effective in media rooms and perhaps even the boardroom where presentations are made on white boards and projector screens.