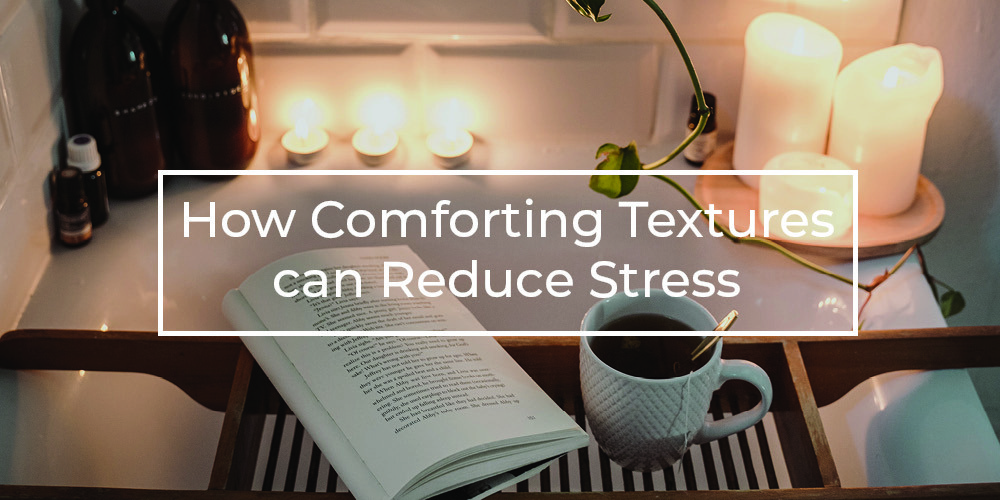 Hygge (pronounced hue-gah) is a Danish word often translated to mean 'cosy', though it relates more to a feeling of slowness and comfort rather than purely physical sensation. The Danish climate is frequently cold and dark, rendering daily life potentially grueling and mundane. Hygge shifts the focus onto the beauty and intimacy of small, comforting rituals. Brewing herbal tea in a dainty china cup with matching saucer and savouring each sip is a perfect example of hygge. As is closing your rich fabric blinds and lighting a candle in your favourite scent. We're here to show you how to encourage more moments of hygge within your own home.
Textures
Hygge is about enjoying simple pleasures: noticing the intricate weave of your sheer blind, the soft Sherpa coating of your throw pillow or the sinking of your bare feet into the plush carpet. Textures appeal to our inner child, naturally draw our attention and are easy starting points for narrowing your focus. We stock a stunning selection of textured blinds that subtly attract the eye to the window and welcome calm meditation.
Colours
Traditional Scandinavian styles favour minimalist themes with a neutral colour palette to promote grounding. A simple backdrop of muted hues is ideal for staying present within ourselves, free from the cacophony of external distractions, busy patterns and outside noise. When everything else is stripped back, we are granted greater freedom to notice the things that are there, appreciating and cherishing them in turn.
Organisation
A tidy home makes for a tidy mind, or so the adage goes. The origins of this phrase are lost in time but the sentiment still rings true. One of the easiest ways to cultivate hygge is to tidy and organize your rooms to allow for smooth, uninterrupted movement throughout your space. Areas of mess manifest stress because whenever you notice them, you make a mental note to do something about it. This memo gets more and more urgent the more the task is put off, therefore, eliminating these triggers frees up the mind for more peaceful and compassionate ruminations. You cannot enjoy the dancing patterns of light cascading off your floorboards if the ground is littered with debris.
Since hygge is a feeling rather than something to be achieved or measured, there is no set formula or way to purchase it. Simply consider what environment best enables you to relax and experience gratitude, concentrating specifically on the small elements. It is far easier to treasure those minimal moments in calming surroundings, so consider how you can tailor your home to be more hygge. A great starting point would be browsing through our textured and neutral collections to gain inspiration and begin your journey toward greater comfort.